We've been busy with the new look call-center agent interface and there are a long list of new features making it easy to deliver call-center services to your customers whether your agents are working in the office, or more likely these days, working from home.
New Web-Phone
The biggest addition is the new Web-Phone. Agents can answer calls from the phone embedded in the agent interface. The biggest advantage to this is zero configuration. The agent only has to log into the agent interface, equip themselves with headphones and microphone and they can immediately start making and receiving calls.

All the usual phone features are available, transfer, hold, mute and optionally, manual dialling.
The web-phone is not the only new addition, we've also added:
Callback Later reminder
Translations to support multiple languages
Agent report with KPI
A wrap-up indicator to tell the agent when the next call might be coming in
Google Search on customer information
This is in addition to all the other features of the agent interface:
Update the sales status of the contact
Add a note to the contact
Add the contact to the DNC list
Check the history and notes on each contact
View your own web based CRM with a single click.
Soundboard
Finally, we've added a Soundboard. For each agent, audio can be uploaded then played to the contact with one click.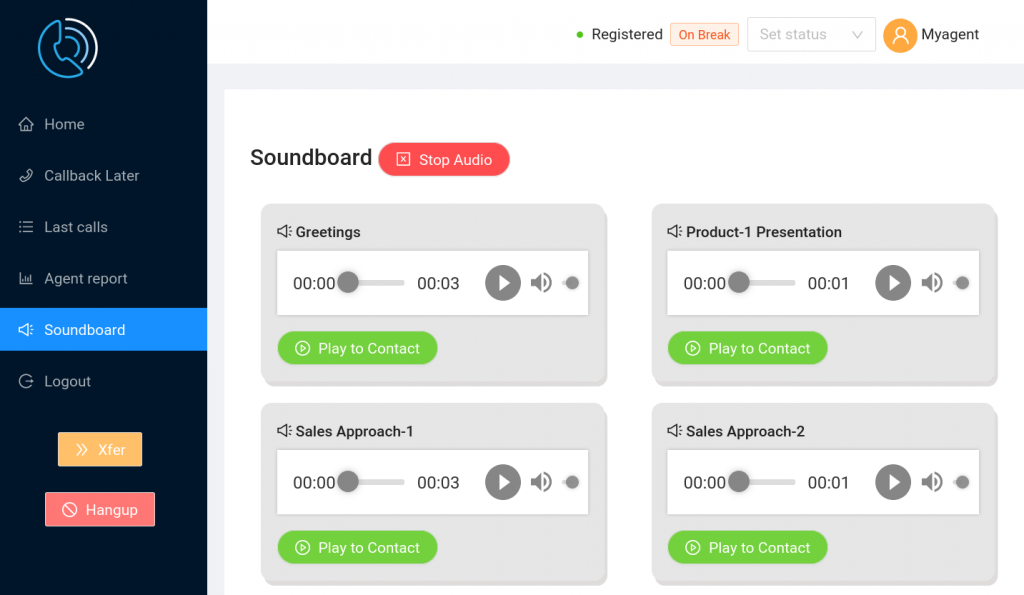 This technique is often used in overseas call-centers for lead generation where foreign accents may be a barrier to sales. The agent is able to have a conversation with the lead by playing different audio reacting what the lead has said.
We've made a short 3 minutes video about the features of the dialer, and there is full documentation at https://docs.newfies-dialer.org/agentui/agentui.html
3 Minute Video