Voicemail Detection
AMD enhances Newfies-Dialer by allowing Newfies-Dialer to detect whether a call has been answered by a real person or by voicemail.
If voicemail or answering machine is detected, then Newfies-Dialer can wait for the beep signifying the start of the answering machine message, then play a specific message to the answering machine, but if a person is detected, play the predefined survey or message.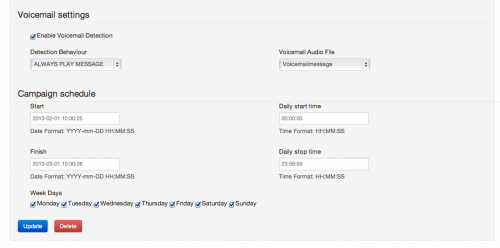 Alternatively, Newfies-Dialer AMD module can hang-up if a machine is detected and only play a message if a real person is detected, or if a real person is detected, only leave a message to the answering machine.
Newfies-Dialer's AMD module is a commercially licensed. The cost for the license, installation, and deployment support on an existing installation of Newfies-Dialer is €975 Euro.
If you need our Newfies-Dialer commercial installation, training and support services as well, we can bundle a single server Newfies-Dialer installation, training, deployment support with AMD detection for a total of €1475 Euro. To include Performance Tuning would cost €1975 Euro.
Select one of the options below to buy now.
On receipt of payment, we will contact you to arrange access to your server.
For more information about Newfies-Dialer's answering machine and voicemail detection module, please contact us.